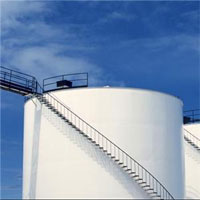 15/02/2010 13:00:28
Often we have to advise people to be cautious when specifying for areas where the temperature on one side of the coating is substantially different from the one on the other side. The reason for the risk of failure was originally discussed in "Problem Solving Forum" Journal of Protective Coatings & Linings, April 1985, from where we have extracted the following.

The "cold wall effect" is a consequence of a temperature gradient across the coating where the liquid or vapour in contact with the coating is at a higher temperature than the substrate to which the coating is applied.

The "Cold wall effect" most commonly occurs in systems where the substrate to which the coating is applied is exposed to the atmosphere and the coating is exposed to a higher temperature.
Several accelerated tests are based on the use of thermal gradients to promote condensation of water at the coating/metal interface.

When water condensates under the paint film blistering is apt to occur. The greater the temperature difference, the greater the extent of blistering. It is reported that a thermal gradient through a coating creates. Osmotic pressure and accelerates permeation through the film. The type of blistering would be similar to that caused by surface contamination such as soluble salts.

NACE Standard TM01-74 "Laboratory Methods of Evaluation of Protective Coatings Used as Lining Materials in Immersion Service" (National Association of Corrosion Engineers, Houston, TX, is a test method that approximates the phenomena found in service conditions involving a temperature differential between the external and internal surfaces of a coating which may accelerate the permeation of the coating by the corrosion method.

"Cold wall effect" is a condition that exists in facilities such as tanks, buildings, and other structures that have coatings applied on areas where their reverse sides have a temperature lower than the face of the side that is being coated.

Vapours migrate towards areas of lower temperature (e.g. cold walls, north sides of tanks and other facilities) as noted in the laws of physics, and often play a large part in the proper curing of coatings. These vapours are derived from the solvents that are needed in coatings to assist in their Application. A great portion, but not all, of the solvents do evaporate from the applied film.
Evaporation is greatly retarded, however, after the coating's polymer sets up on the surface of the film. As the resistance to evaporation increases because of greater polymer formation, the solvents I mobility is slowed and thus begins their migration towards the cold wall.